May 16, 2023 / Podcasts
Posted by: Ted Hudson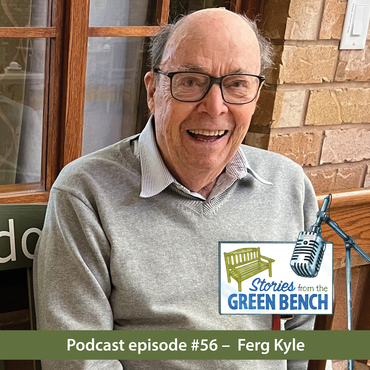 Flying into another great story from the green bench as hosts Kathy Buckworth and Evelyn Brindle welcome Ferg Kyle to take a seat.  Ferg joins us from The Village of Tansley Woods in Burlington to talk about his lucky life, overcoming challenges and his passion for flying.
Ferg believes he is a very lucky man. He lives by the quote from Gary Player, "The harder you work, the luckier you get."
Learn how he overcame health challenges to live out his dream, never taking his eye off of his lofty goals including his time as a fighter pilot and then as a commercial pilot for Air Canada.
"The doctor told my mom that I could expect to live to age 28 due to a heart condition.  I had a normal life. I should say that I am 93, I call that lucky." - Ferg Kyle
Links: Apple Podcasts | Spotify | Podbean | Amazon Music | Google Podcasts
Subscribe, rate, and review our podcast on any network and share your thoughts on social media using the #ElderWisdom tag to help others find us.