Nov 29, 2022 / Podcasts
Posted by: Ted Hudson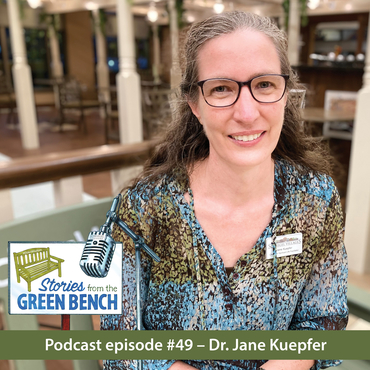 Episode #49 - Spirituality & Aging in Long-Term Care & Retirement homes can build connection and community.  Erin Davis & Doug Robinson welcome Dr. Jane Kuepfer, PhD, MDiv, RP to the green bench to share about her role as the Schlegel Specialist in Spirituality and Aging, her hopes for the future, how spirituality is embraced and supported in all homes, and why. 
"Our faith evolves throughout life as we grow and mature.  That doesn't stop when we get to the later years." - Jane Kuepfer
Links: Apple Podcasts // Spotify // Podbean // Amazon Music // Google Podcasts
Subscribe, rate, and review our podcast on any network and share your thoughts on social media using the #ElderWisdom tag to help others find us.