Oct 25, 2022 / Podcasts
Posted by: Ted Hudson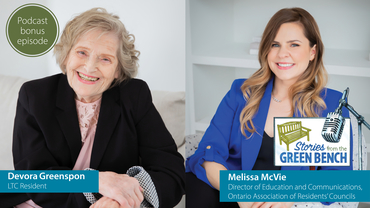 Bonus Episode - Erin Davis and Doug Robinson are joined in this special episode with the Ontario Association of Residents' Councils, Melissa McVie, Director of Education and Communications, and Devora Greenspon, LTC Resident and REAL Group Co-Chair.
"Residents' Councils welcome an open dialogue with the leadership team in their long-term care home." - Melissa McVie
"I did not go into long-term care to die, but to live.  To have a fruitful, happy, quality of life." - Devora Greenspon
Links: Apple Podcasts | Spotify | Podbean | Amazon Music | Google Podcasts
Subscribe, rate, and review our podcast on any network and share your thoughts on social media using the #ElderWisdom tag to help others find us.