Mar 21, 2023 / Podcasts
Posted by: Ted Hudson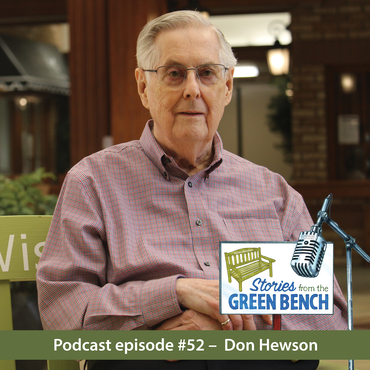 Don Hewson is an intellectual property lawyer and resident of The Village of Erin Meadows in Mississauga, Canada. He has a background in engineering and has traveled to 87 countries, and is an avid fan of classical music and author Louise Penny.  Unlock the hidden gems of wisdom as hosts Kathy Buckworth and Evelyn Brindle chat with Don on the Green Bench.
"Encourage your children to do whatever it is they want to do and get involved in collegial activities - don't be loners - and be sure to excel in mathematics and science courses to open up a world of possibilities!"
Links: Apple Podcasts | Spotify | Podbean | Amazon Music | Google Podcasts
Subscribe, rate, and review our podcast on any network and share your thoughts on social media using the #ElderWisdom tag to help others find us.