Jun 01, 2020 / News
Posted by: Ted Mahy
Honour the wisdom of the elder, end ageism
The Schlegel Villages #ElderWisdom campaign is running it's 5th year of highlighting the collective wisdom held by our elders across our 19 Schlegel Village locations.  Our residents will continue to offer their advice, insights and wisdom from their lived experience – sharing times of hardship, resilience and joy.  Interviews will be captured by video and shared with our online community and celebrate the diversity and human spirit that is alive across our organization.
Stories from the Green Bench.  Don't miss it.  Share, Like, Comment.
*Videos shared across the Schlegel Villages Social Media Accounts.
The greatest untapped resource in Canada, if not the world, is the collective wisdom of our elders."

-Ron Schlegel
Ageism is a form of discrimination, particularly experienced by seniors.  Our Elders have a great deal of wisdom to contribute to their communities. However, societal norms marginalize seniors, treat them with disrespect, make them feel unwelcome and otherwise generalize as if they were all the same. 
It's easy to participate! Connect and learn from a senior. Whether it be a family member, a neighbour, a friend at a local retirement home, or someone in the community, they all have a story or a talent to share. Share your experience, a quote, or your learnings on social media using #ElderWisdom.
Visit elderwisdom.ca for more details, photos and posts about our annual campaign.
Looking for more information or how to get involved?  Contact Ted.Hudson@schlegelvillages.com
---
History
In June 2016, residents of each Schlegel Village were joined by community members on the green bench in their community for conversations across 13 cities in Ontario.
On June 6th, 2017, 80 seniors from across Schlegel Villages joined approximately 500 youth at 16 schools in Ontario to share their wisdom with the students.
In June 2018, the Villages brought the bench and seniors back out into the community visiting 15 cities across Ontario to share in conversations. Our #ElderWisdom campaign is designed to decrease ageism in our communities and bring awareness to the amount of wisdom seniors bring.
In June 2019, the bench makes stops in 13 cities across Ontario hosting hours of conversations.  Included in this year's campaign is an Ask Ron Schlegel Twitter chat, a Facebook live panel, an Instagram experience, and visits to the Innovation Summit, RIA Curiosity Fair, and more.
In June 2020 – Stories from the Green Bench Video Series  (Find the videos here)
On October 13th, 2020 the #ElderWisdom | Stories from the Green Bench podcast was launched hosted by Erin Davis
---
#ElderWisdom In The News
Strangers Become Fast Friends Upon The #ElderWisdom Bench | Village Voice
Seniors talk with LGBTQ+ youth at Pride event in Kitchener | Kitchener Today
#ElderWisdom message against ageism is growing | Guelph Today
A few short minutes of #ElderWisdom to change perspectives | Village Voice
#ElderWisdom to make the world a better place | Village Voice
101-year-old tackling ageism using #ElderWisdom bench | CBC Windsor
'Change and Love are the only Constants in Life': #ElderWisdom in the Realm of Inclusion | Village Voice
Need some advice on your job, dating, travel? Have a seat with a senior | CBC Toronto
#ElderWisdom: Seniors share their experiences | CTV Kitchener
Cherish Our Teachers and Discover the Wisdom of the Elder | Village Voice
Spreading the Wisdom in St. George's Square | Guelph Today
Senior shares Wisdom at Waterloo Square | Waterloo Region Record
The Effects of Ageism on Quality of Life for Seniors | CARF International
#ElderWisdom Shared with Students to Mark Seniors Month | Schlegel Villages
Schlegel's #ElderWisdom Green Bench Campaign aiming to quash ageism | OLTCA
#ElderWisdom Campaign Harnesses Great Untapped Resource | Schlegel Villages
Seniors Share their Wisdom at Gore Park | Hamilton Spectator
Senior Shares her Story with Strangers on Barrie Park Bench | Simcoe.com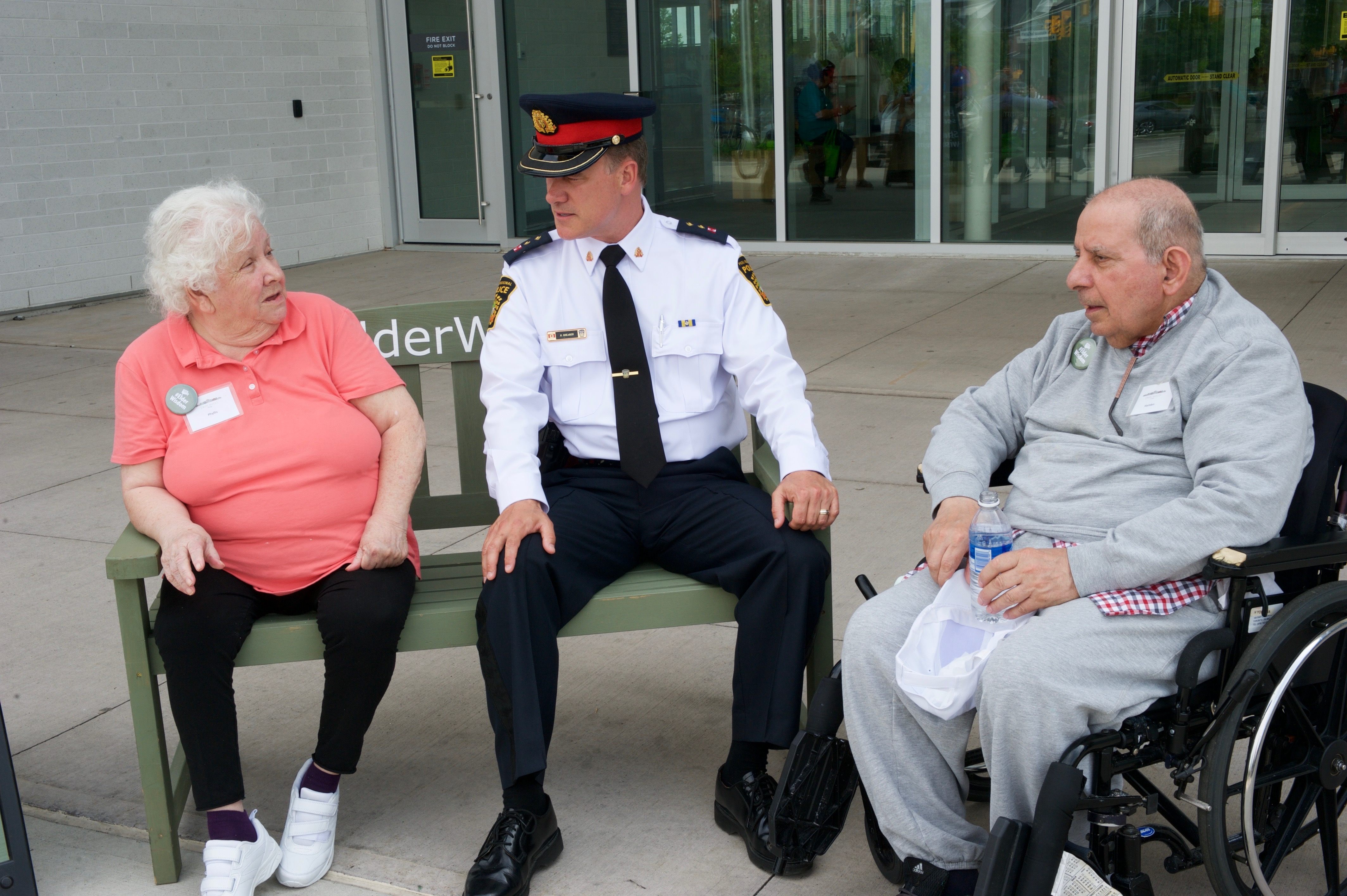 Learn more about the Wisdom of the Elder Signature Program and watch our Video