Apr 11, 2023 / News
Posted by: Kristian Partington
The Village of Winston Park's Welcomes Residents into Expansive New LTC Space
Kitchener, ON – April 11, 2023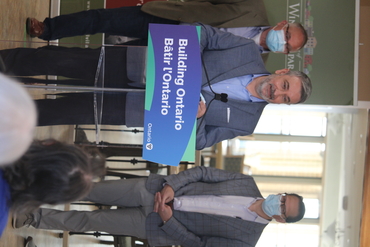 Schlegel Villages is thrilled to see a true labour of love come to fruition as the first phase of its expansive redevelopment at The Village of Winston Park began settling residents on April 6. On April 11, The Honourable Paul Calandra, Minister of Long-Term Care, visited the home to meet with residents and tour the newly re-developed home, which upon completion of its final phase will be home to 288 residents.
On April 6, the current residents moved from the old Winston Park next door into the newly developed neighbourhoods of the first five floors. On April 13, the residents of Pinehaven Nursing Home in Waterloo will take up their new residences in the remaining three floors, effectively combining two families from within the Schlegel Villages organization. The new and improved Village is also rounded out with new beds allocated from the province, allowing an additional 109 residents to become part of Village Life once the old space is renovated.  
"We were excited to receive the allocation of new beds from the province and are immensely proud to be part of the investment to enhance the lives of the people who call Winston Park home," says James Schlegel, president and CEO of Schlegel Villages. "We then went further and expanded those plans in partnership with the province to support the move of our Pinehaven Family; we're thrilled that this new space has turned out as beautifully as it has and we're proud to welcome families, partners and friends to be part of it."
Schlegel was joined by several team members, residents and leaders to welcome the minister and his team for a tour of the new neighbourhoods, which incorporate the latest in evidence-based thoughtful design to support residents of all ability, especially those living with dementia.
"This truly is a remarkable space," says assistant general manager Luke Denommé, who supports the operation of the LTC neighbourhoods at Winston Park. "As an organization, we have taken the best aspects of personalized, relationship-centred approaches to care and found a way to incorporate it into the physical space here in our new neighbourhoods. Once everyone settles in, I know we'll be able to showcase the best of what life can be in a long-term care setting."
Brad Lawrence is the General Manager supporting both the retirement and long-term care neighbourhoods at Winston Park. He says the way the team has come together through the weeks and months leading up to the move has been wonderful to see.
"We have such a great group of people here who focus intently on the well-being of the residents we serve," Lawrence says. "By adding the team from Pinehaven, we've created something really special here, and I'm extremely grateful for the effort everyone has put in to make this transition so seamless."
He adds that it was an honour to share space with various ministry officials throughout the past weeks during the final inspection process, and he was pleased to meet with minister Calandra and his team.
"Congratulations to Schlegel Villages and The Village of Winston Park on its latest construction milestone in its redevelopment plan," says Paul Calandra, Minister of Long-Term Care. "I was thrilled today to meet residents in their new home. Today's opening means that 224 residents will have a new place to call home, and helps us deliver on our commitment to build modern, safe, and comfortable long-term care homes across Ontario."
The province of Ontario has made a commitment to invest in the development of 30,000 new long-term care beds by 2028, and Schlegel Villages is honoured to be in the planning stages of developing more than 2,400 of these new beds in 11 new locations in the coming five years.
About Schlegel Villages:
With 18 Schlegel Villages that are home to more than 5,300 residents, Schlegel Villages has extensive expertise and experience in design, construction, operation and management of LTC and retirement communities. The Schlegel Family has been in the service of older adults for 70 years and, in partnership the Schlegel-UW Research Institute for Aging and local health and education leaders, they are proud to contribute to system-wide change and innovation alongside some 5,000 team members.